NEWS
Our mini models will be on the market soon. They look nice but you need some technical insigth to build them.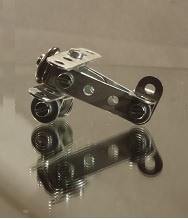 MERKUR offers diamond crossings and there is a range of remote controlled points! In tubular tinplate!!!!!
Just the Ticket is a electronic newsletter edited by david Upton. If you like to obtain tis free news letter with a lot of news from the trade and from tinplate railway enthusiastics write an email to d.upton355@btinternet.com .
Languages

Nederlands

English

Deutsch

Français
Guestbook
15-06-2020

- Hello Rob; Enquiring about Blechschmidt houses and church. ... 

read more

28-01-2020

- Hi Rob

Recived mt order yesterday.

Only fifteen days to Canada ,... 

read more

09-04-2019

- Hello, I have bought for my son a second hand... 

read more
New message
Shopping cart
No items in shopping cart.